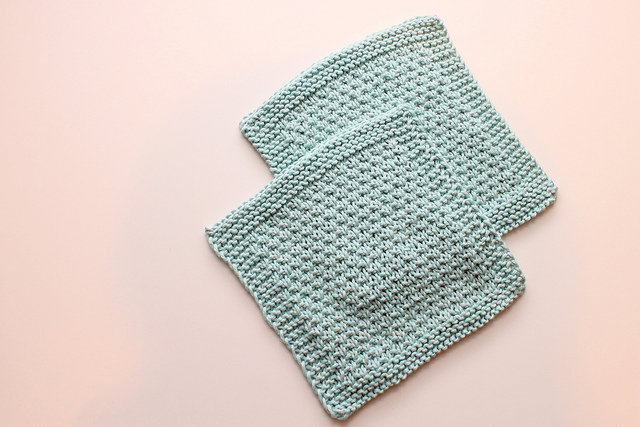 You may wonder, why use such cute & pretty looking knit work for a washcloth? Trust me, you will love using them once you knit a washcloth of your own! For beginners, this is an excellent project to try your hands on knitting without fretting about ruining expensive yarn. Its easy & quick to make and doesn't require much yarn. It is suggested you use 100% cotton since its absorbent and a small size dishcloth is easy to use & dries up faster. The pattern it creates is good for scrubbing dishes!
Step 1: Materials
2 stitch markers
Tapestry needles
Size 6 (4mm) needles
A skein of worsted weight
Yarn is of mystery cotton of light worsted or DK weight
Step 2: Pattern
Cast on 35 stitches
Row 1 – 8 : Knit
Place stitch markers after the 4th stitch and before the last 4 stitches to mark the garter border.
For all rows knit to the first stitch marker and continue with pattern below, and then knit from the second stitch to the end.
Row 9: Knit
Row 10: *K1,P1*, K1
Row 11: Knit
Row 12: *P1, K1*, P1
Repeat rows 9 – 12, 9 more times
Repeat rows 1 – 8 once.
Bind off and weave in any ends.
There you go! Your sploshy dishcloth is ready in no time. Experiment different types of stitches over these washcloths and give borders to make your knitting project interesting. You can make a dozen design patterns in the middle of these washcloths like animal images, flowers, hearts, year, names etc and gift your pals these cute washcloths.
These also go well even for use as placemats under mugs, glasses or hot dishes. In this case you can use good quality yarn and combine two-three colors to make them beautiful as they are displayed in your front room, on your dining table or over your side table.
Photo credits & source: chocolatemintsinajar.com
Anita Bangera - author