This knitted shawlette is something everyone will envy to possess. The very look is simply pretty and makes it suitable to use for all occasions; be it formals or casuals. This shawlette will suit anybody at anytime! The shawl is designed to be worn in warm climates making it best to accessorize yourself with this shawl anytime!
Step 1:Materials
1 skein of Schachenmayr Tahiti yarn in Sunset
306 yds / 280 m per skein
1.75 oz/50 g per skein
99% Cotton/1% Polyester
US 7 (4.5mm) 24″ cable needles
Step 2: Pattern
CO 5 sts.
Row 1 (RS): k1, yo, k1, yo, k1, yo, k1, yo, k1. (9 sts)
Row 2: purl.
Row 3: k1, yo, k1, yo, knit to the last 2 sts, yo, k1, yo, k1.
Row 4: purl.
Repeat Rows 3-4 until the desired length. Then knit Rows 3-4 until you have 245 stitches. Bind off loosely and weave in loose ends. Blocking is highly recommended.
Step 3: Tassels (optional)
1. Cut a piece of cardboard and cut it to size. The tassel should be slightly shorter than the length of your card. Wrap the yarn around the cardboard, starting and finishing at the same end.
2. Hold the yarn and card at the top and cut at the bottom edge.
3. Thread a bead onto a long piece of thread and tie a knot close to the bead. You don't have to use a bead, but I like to because it gives the tassel a good shape.
4. Place the yarn and bead across the center of the tassel.
5. Wrap the yarn around the tassel and tie a double knot on the top.
6. Fold the tassel in half and spread the yarn evenly around the bead. Grab another piece of yarn and wrap it around the tassel a few times before tying a double knot.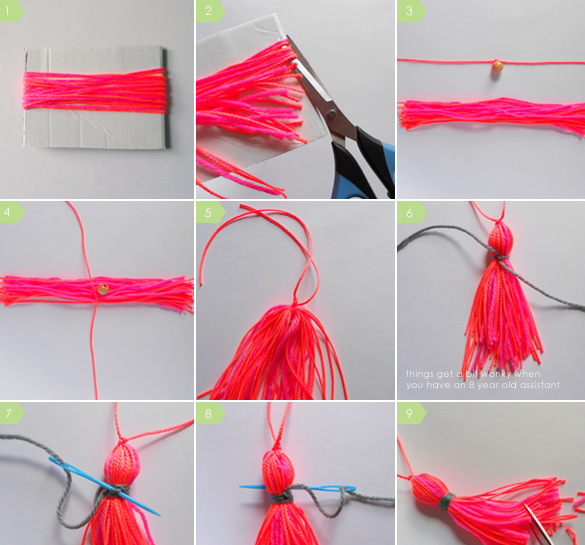 7. Thread the ends of the yarn back through the wrapped section a few times.
8. Then pass it through the middle of the tassel and cut the end so it disappears back into the center of the tassel. Repeat with the other end.
9. Trim the bottom absolutely straight.
10. Tie the top loose piece of yarn making a loop to hang your tassel.
And you are ready to flaunt your new cool looking shawl!
Photo credits & source: purlavenue.com and we-are-scout.com
Anita Bangera - author