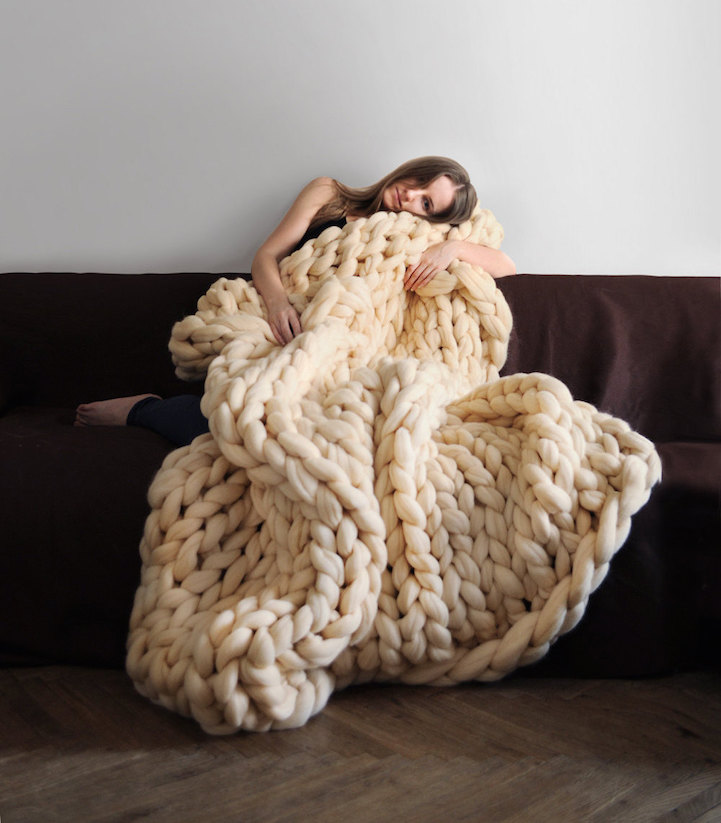 I don't know about you, but I love to sleep with my favorite blanket, no matter the season. In winters I fold into myself, foetus style; in summers I keep an arm and leg out of the blanket before I suffocate with the heat. Fact is, the blanket makes me feel a sort of comfort and safety in it while I sleep. As a kid I used to assume that as long as my whole body is covered, the bogeyman won't be able to find me. These days, I swap the bogeyman for reality.
In school or through our grandmothers, we learnt the art of knitting using knitting needles and wool yarn. In a few short nips and tugs, we could make anything from a hairband to an itchy sweater to a bag. It seems that with the passage of time, knitting hasn't stopped becoming a trend women use to unwind. A quiet evening in front of the fireplace or absentmindedly while watching TV, knitting is a fun and creative hobby loved by the old and young alike. But like everything else, even knitting has evolved a bit. A few years ago there was a hype about knitting using gigantic knitting needles. That soon faded because of it's ridiculousness. Now, home designers and interior decorators have come up with an innovative way to knit – using our God-gifted arms. Imagine, you can knit an entire blanket using think wool yarn and your hands. The result? A beautiful, comfy, soft, hand-made comforter to give you the sweetest dreams.
The latest trend in knitting has taken over to such an extent that knitters are actually selling their ware for anywhere from $70-$250! People are flocking to places like Etsy and other handcraft websites to get the best of these giant knits. You don't have to spend that kind of money – you can do it yourself, and if you have some talent left over, make some money on it! Check out this helpful video about how to make a giant blanket by using your arms as knitting devices.
Arm Knit Blanket DIY
Have a warm, snuggly day ahead!
Komal - author